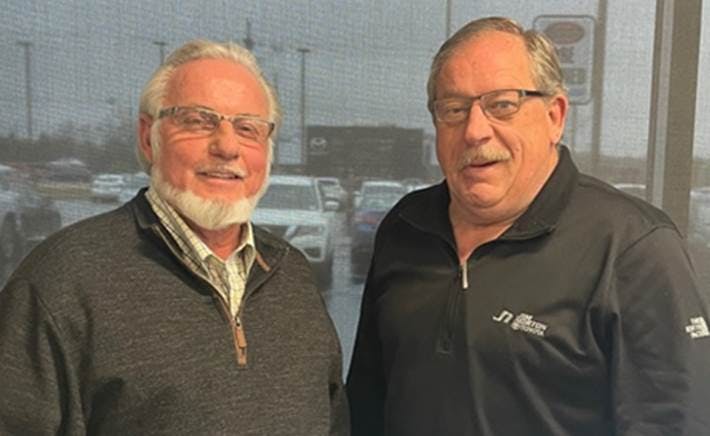 THESE GUYS HAVE OVER 90 YEARS OF COMBINED AUTOMOTIVE EXPERIENCE
Randy Hill and Willie Williams have had a long history with the Jim Norton automotive family throughout the years. Randy started with Jim Norton Toyota in February of 1993 as a Used Car Manager and Willie joined the team in 1999 as a Wholesale Buyer and even worked at 'Jim Norton Buick' in 1985!. But both of their starts in the automotive industry go back even further. Randy worked as a line Mechanic at a Cadillac store in 1975. Willie was just a teenager when joined a local dealership here in Tulsa as a Porter in 1973, then started selling cars as soon as he turned 18 years of age. Just five short years later he was part of that dealership's management team and did financing as well, "Those were the days when you had to write all the contracts by hand, so my penmanship is still pretty darn good to this day!". Along those lines, Willie's father, who ran the business, was an innovator, "He was the first dealer in Tulsa that had a machine to print automotive financial contracts!".
Now Randy and Willie bring their combined 90 years of automotive experience to a daunting monthly task: Stocking the pre-owned inventory at Jim Norton Toyota. "We need to replace every pre-owned vehicle we sell … and we sell north or south of 300 pre-owned vehicles every month. That keeps these two old boys pretty busy!" laughs Randy. "We are one of the largest retail dealers in the state of Oklahoma, there's absolutely no limit to what we'll buy and we offer the most aggressive pricing out there!" adds Willie. "That's true," says Randy, "a lot of people do not realize that we buy all makes and models, not just Toyota's, and we pay top dollar for quality preowned vehicles. If a person doesn't check with us before they sell their car, truck or SUV, they are probably leaving money on the table that they could have put straight into their wallet!". "People don't realize how many vehicles we need to buy every month, and how much we're willing to pay!" adds Willie.
In addition to buying vehicles directly from the public, Randy and Willie attend daily online auto auctions that encompass a five-state area. "We are buying vehicles every day, sometimes every hour, 12-months a year. Thankfully we have such a loyal customer base over the years that we sell hundreds of pre-owned vehicles every month, and we want to bring them the best quality pre-owned vehicles possible" says Willie. Randy suddenly looks very serious and adds, "We don't play around – we always give our customers the most aggressive pricing on their vehicle, whether they're trading it in with a purchase at Jim Norton Toyota, or just selling it outright. We are buying every single day and can get a check in hand within 24-hours, sometimes the very same day!".
Back to Parent Page