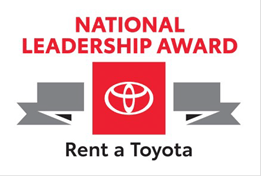 Congrats 2020 Rent a Toyota National Leadership Award Winner, Kevin Peck!
CONGRATULATIONS TO THE 2020 RENT A TOYOTA NATIONAL LEADERSHIP AWARD WINNERS...
AND SEVEN-TIME CHAMPION, JIM NORTON TOYOTA'S VERY OWN KEVIN PECK!
Each year Toyota honors top performing dealerships with the 'Rent a Toyota National Leadership Award'. We are honored to announce this is the seventh time our very own Rental Manager, Kevin Peck, has received this prestigious national award and we couldn't be prouder to have Kevin on our team! Kevin joined Jim Norton Toyota in 2009 and has been the Rental department manager since September 2012. "The reason Kevin and his team have won this national award so many times over the years is because Kevin is dedicated to the dealership, our customers, and the daily processes required to ensure complete customer satisfaction." said Greg Foster, Fixed Operations Director.
The Rent A Toyota National Leadership Award honors exceptional performance in all facets of rental operations, as well as several other factors such as building brand awareness, training and use of technology This past year there were 844 eligible dealerships … with only 43 winning dealerships nationally … and only one dealership in Tulsa receiving this award.
The owner of Jim Norton Toyota, Mr. Jim Norton, adds, "Kevin, thank you for your hard work and passion – always doing the best you can for our customers…you have been a pleasure to have as the leader of our Rental department these past ten years. Thank you!".
The next time you visit Jim Norton Toyota for your Rental, Sales, Service, Parts or Collision needs, please congratulate Kevin and see the beautiful crystal award he has so deservedly earned the dealership!
Back to Parent Page